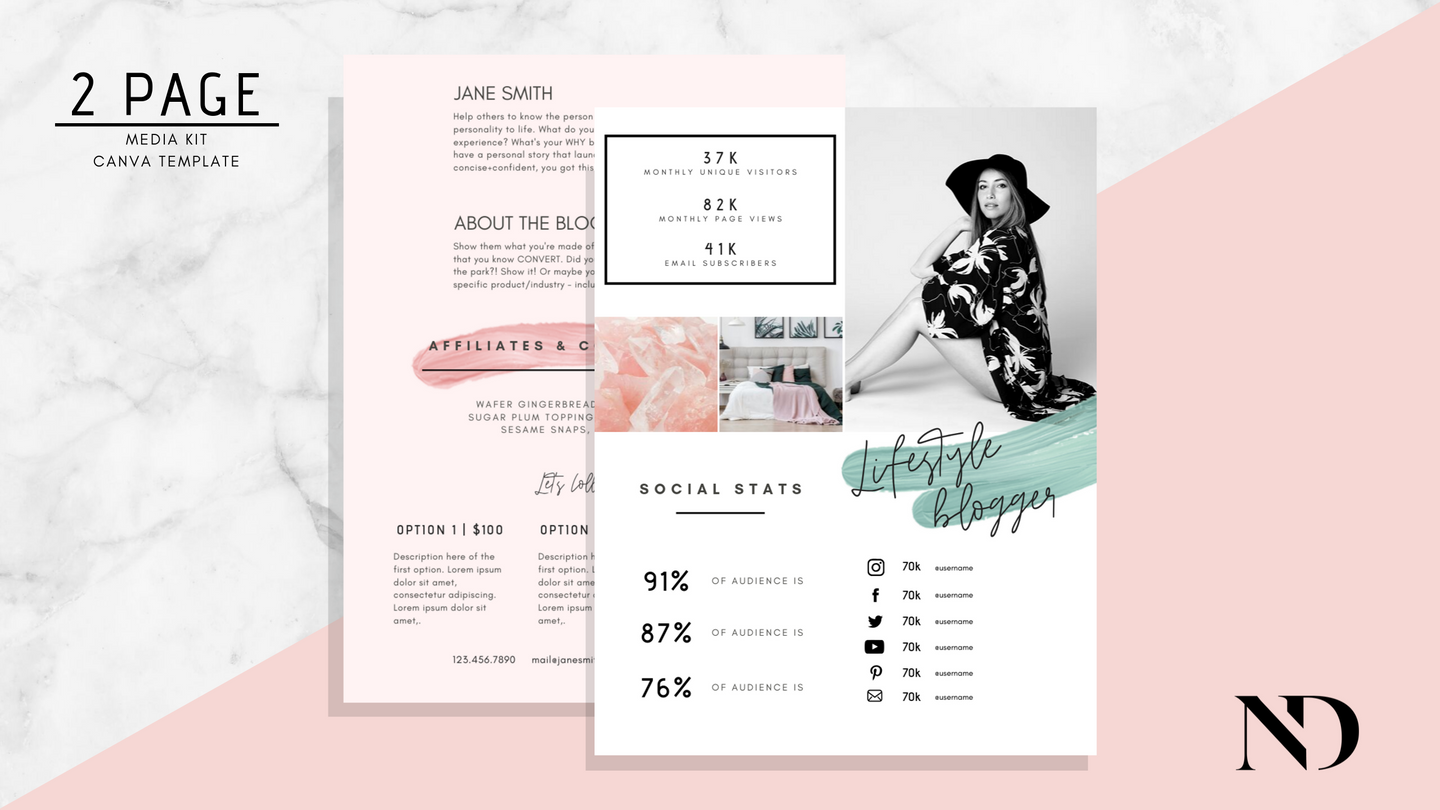 2 Page Media Kit Template - Pink
Regular price

Sale price

$9.99

Unit price

per
Ready to elevate your online brand and likelihood of landing brand collaborations? We've got you covered.

Whether you're a seasoned influencer or just starting out, you'll need one thing: a media kit. And we are making it easier than ever for you to create a true and beautiful reflection of your brand with our media kit templates.
Our media kits are designed to be used with the free Canva design website. 
Simply download and save a copy of the media kit template to your free Canva account. Customize the text and colors to your liking, or simply leave it as is! 
Share
FAQ

HOW TO INSTALL?

Make sure you're mobile device is up-to-date and download the FREE Lightroom app (made by Adobe). Follow the Install Guide! Here's a quick video of how it works.

WHAT IS A PRESET?

A preset is a professionally made "filter" for your photos. These presets, or filters, have been custom made, developed, and tested to make sure they are optimized for the majority of photos and mobile users!

You will still have to make slight adjustments sometimes depending on the original lighting and coloration of the photo. (But don't worry, that's covered in a basic Lightroom tutorial that is included with every preset purchase)!

I DOWNLOADED TO LIGHTROOM BUT NOW I ONLY SEE A PHOTO!

Once you get the presets downloaded into Lightroom you will see the preset photos/files. These images have all the preset settings attached. You'll need to save it into Lightroom for future usage. All you need to do is the "Create Preset" step (step #5 on the Visual Install Guide)!

I TAP ON "DOWNLOAD" BUT NOTHING HAPPENS!

A few things could be causing this! 

You are not in Safari—you may be using a third party mail app's (Outlook Mail/Yahoo/Gmail app). You'll need to click on the Safari icon on the bottom right of your screen. This will open up the download page in Safari, and you can proceed with the install process from there. (see image below)




You are not using the most up-to-date iOS 13+. Make sure your iPhone is running at least iOS version 13 by going to your Settings - About - Software Update (it should says iOS 13--may have a few numbers following; anything 13 and above will be able to unzip our the preset files!)

You are not in Safari and are using a different web browser (ie: Google Chrome). If you'd like to continue on with the install guide we provide, please copy & paste the link into your Safari mobile web browser. Or if you want to try and only use Chrome, you'll need to make sure you download to the "Files" app (made by Apple and automatically is installed onto your device, if you deleted this app, you can install for this one time to unzip your presets) so you can unzip the download.

If you have any questions, you can always contact our support team directly at support@nicoledigi.com

WHERE WILL I LEARN HOW TO DOWNLOAD / INSTALL THE PRESETS?

We have a step-by-step Visual Install Guide included with all of our presets! We also have a wonderful support team that you can reach out to with specific questions at support@nicoledigi.com

IS THERE AN EXPIRATION DATE FOR THE PRESETS?

There is no time limit for you to use these presets! Once you purchase them, they are yours to use, for life!



DO THESE WORK ON MY ANDROID DEVICE?

Yes these are completely Android and iOS friendly :)

Each Android is a little different so it the steps may not match up exactly depending on your Android software & hardware. We suggest using the Files app by Google to unzip the downloaded file.

After you tap the "Download" button the zip file will go directly into your "Gallery/Downloads" folder, you'll then want to unzip this folder (tap "EXTRACT" to unzip the file") which will then give you access to the "PRESETS" folder.

After you unzip the file, open up the Lightroom app and select the "import photo" icon (blue icon next to the camera button in Lightroom). Navigate to your Downloads folder, and then select the .dng/preset files you just downloaded!

Once you get the presets downloaded into Lightroom you will see the preset collage (or the cover photo that is shown on the website) that has all the preset settings attached, and you'll need to save it into Lightroom for future usage. Follow along with the guide below from there!

If you don't see the files in your Downloads/Gallery folder on your phone, or if you have any questions Please email support (

support@nicoledigi.com

) a screenshot that shows where you're at; this will help with the troubleshooting process! :)

CAN I USE THESE ON MY DESKTOP / LAPTOP COMPUTER?

These presets are designed to be used on your mobile device with the FREE Adobe Lightroom CC app.

However, if you want to use them on your desktop, you need to have an Adobe Lightroom subscription ($9.99/mo with Photography plan). Once you subscribe to Adobe's Creative Cloud, your presets can be synced from your mobile device to your desktop in Lightroom. If you are using Lightroom Classic, we have a Desktop Visual Install Guide included with your purchase. 

IF I BUY A NEW PHONE, WILL I LOSE MY PRESETS?

If you are not subscribed to Adobe's Creative Cloud, you will have to re-install your presets to your new device, no need to repurchase! Just reference the email you received upon purchasing and re-download them to your new device using the link in the email. If you are subscribed to Adobe's Cloud Sync, they should sync up to your device once you login with Lightroom!

If you no longer have the download email that was sent to you, please reach out to support@nicoledigi.com and our support team will get them resent to you :)

WHAT APPS DO I NEED TO USE MY PRESETS?

Our presets work with the free Adobe Lightroom app (available for both iOS and Android devices), and that's it!
Refund & Returns

Single purchaser license only. Unauthorized distribution or reselling of our product as is or modified is prohibited.

DUE TO THE DIGITAL NATURE OF THE PRODUCTS, THERE ARE NO REFUNDS. All sales are final. 

While we do not offer any refunds.  We would love to know more about your experience and help you troubleshoot the problems that you may have, please email us at nicoledigipresets@gmail.com. If you haven't seen any of our walk through videos or Lightroom tutorials, please refer to these within your product link and on our official Instagram (see editing tips highlight reel).